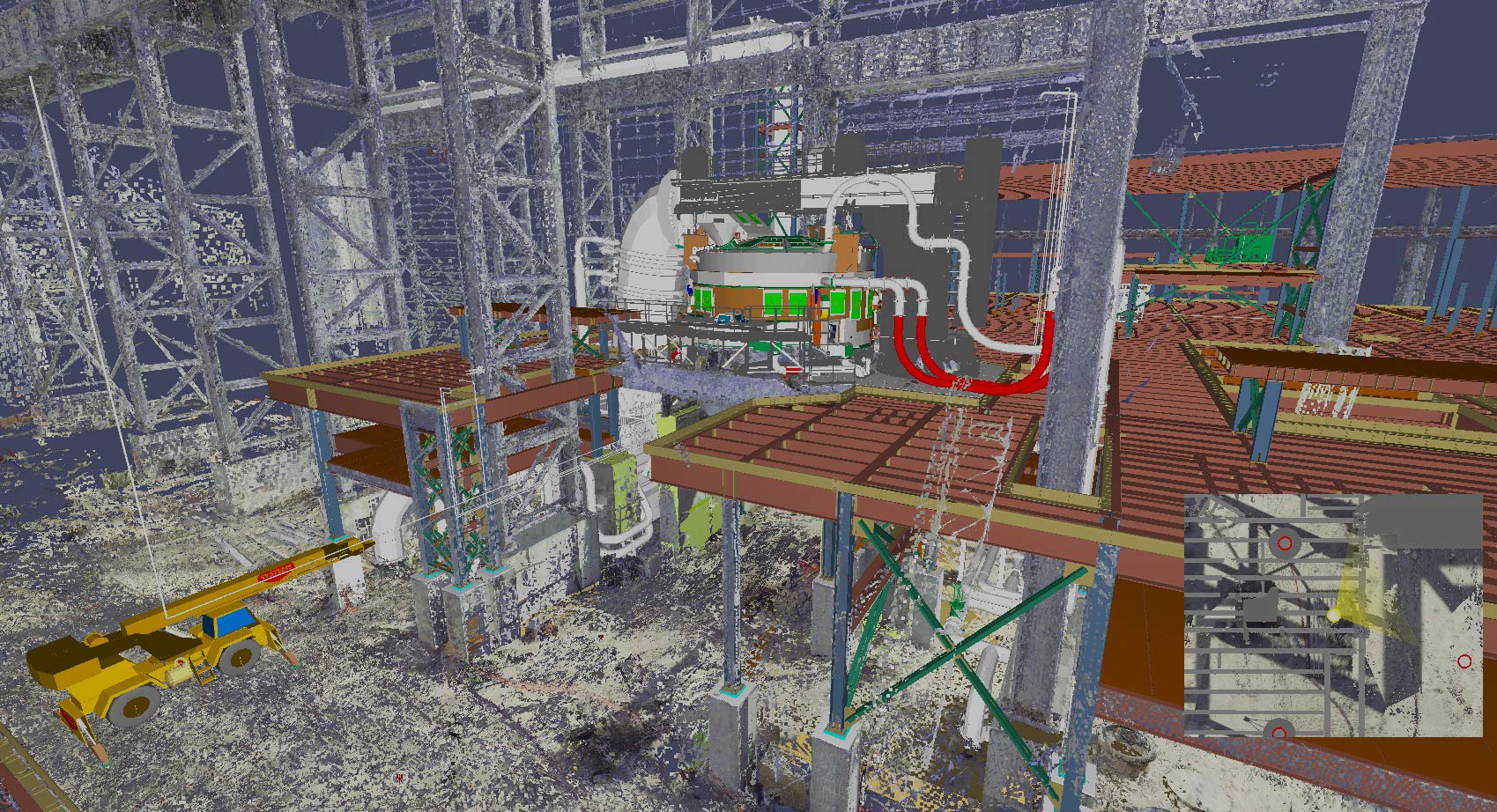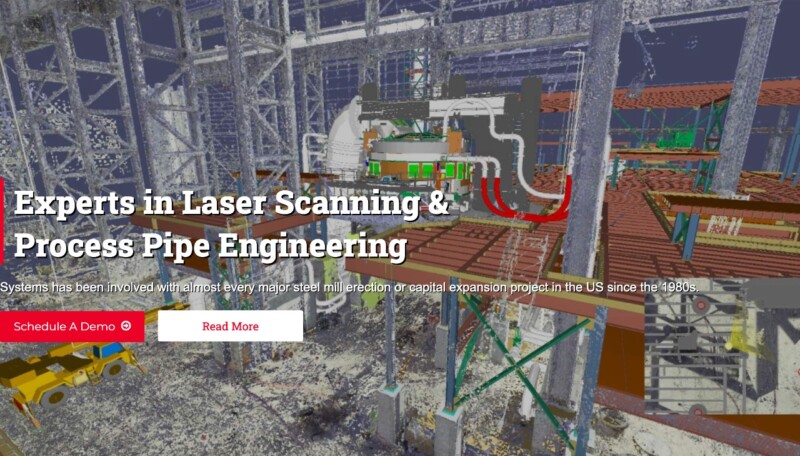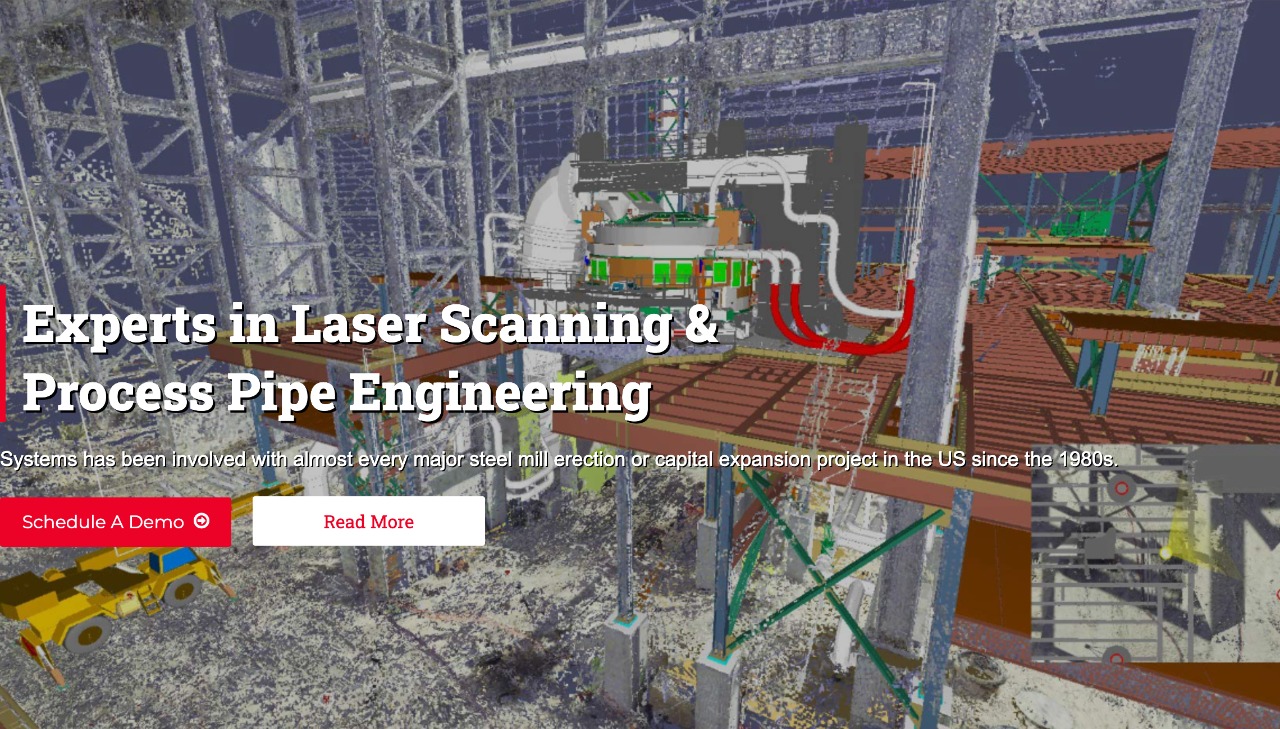 Experts in Laser Scanning &
Process Pipe Engineering
Systems has been involved with almost every major steel mill erection or capital expansion project in the US since the 1980s.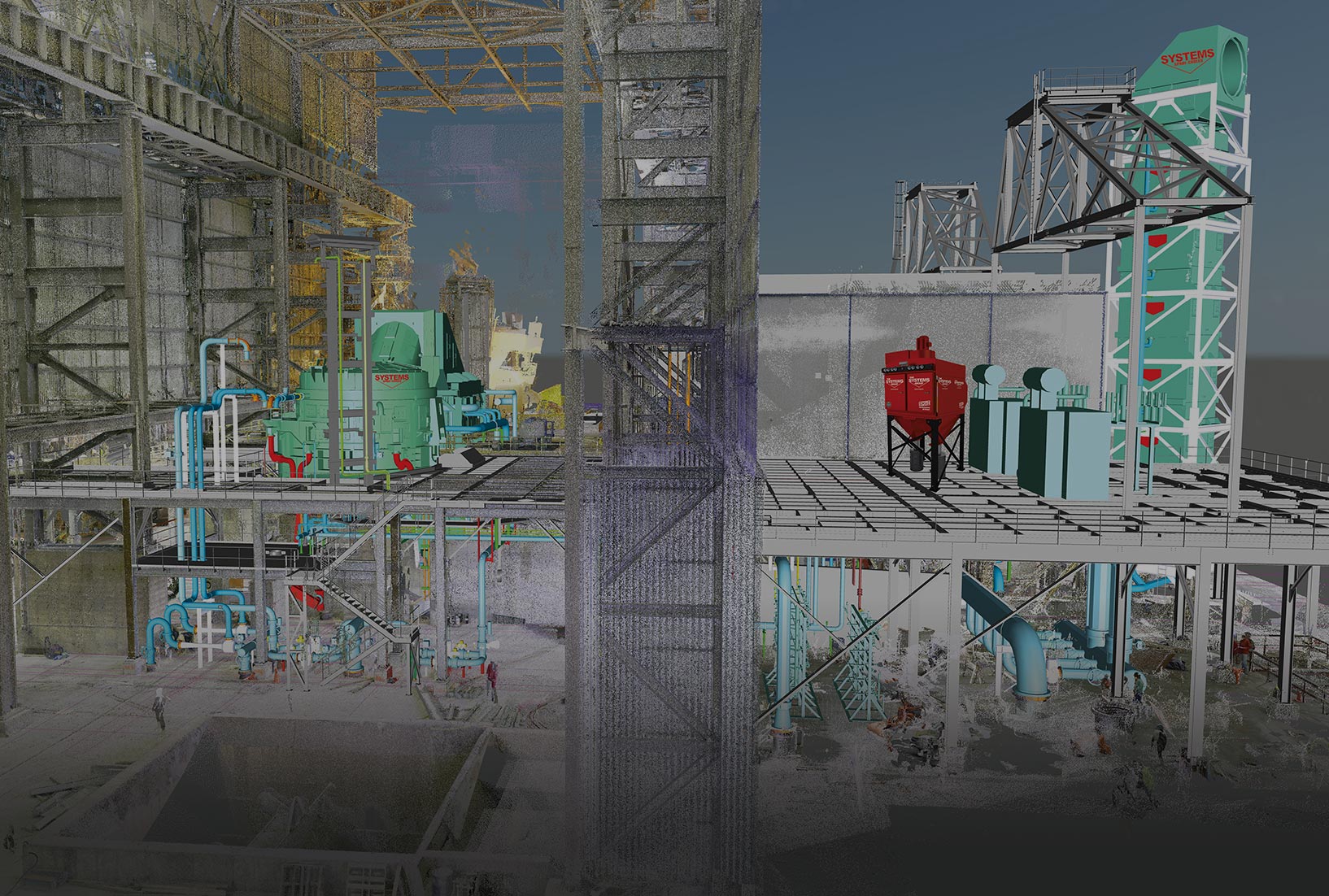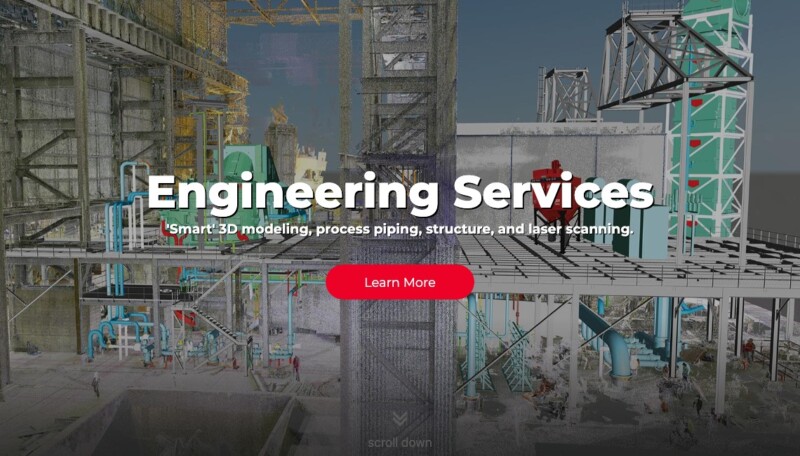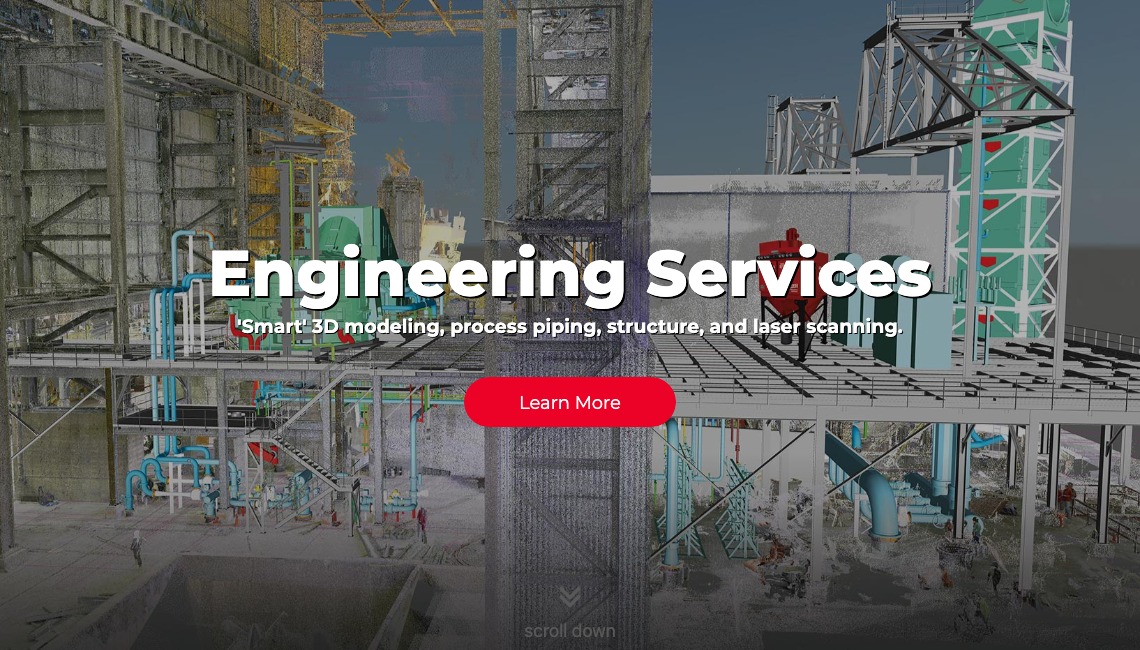 'Smart' 3D modeling, process piping, structure, and laser scanning.
Engineering Services
scroll down
 Engineered for the Steel Industry
3D Process Piping Systems
Instead of giving you just a pretty picture of your process piping, Systems models are 'smart'!  The model contains pipe sizes, service tags, structural supports, and more. Systems can use this to generate a comprehensive Bill of Material, down to even the nut, bolt, and gasket kits needed for install. This same model is used to also create plans & sections, Isometrics, and Spools.
Millions of Data Points Accurate to 2mm
Laser Scanning & Point Clouds
We use state of the art Leica laser scanners to accurately capture a 'snapshot' of your facility. This generates a 3D point cloud that allows us to accurately pull measurements and generate a new project that will fit like a glove. No super computer needed to see your project, Systems Cintoo takes care of all the heavy lifting!
Got Problems?  We have Solutions.
Engineered Problem Solving for Steel
Making steel produces a constant string of challenges to work around. If you're stumped or need help, we've been solving complex problems in steel mills for over 50 years, from 'simple' gantry arm issues to moveable buildings with an integrated dust collection system.
PE Stamped, Fully Detailed, AISC Certified Fabricator
3D Structural Steel Design
We can provide in-house detailing for custom and structural steel drawings to ensure accurate work and speedy production for each project's unique requirements. Our experienced staff continues to complete projects on time and error free.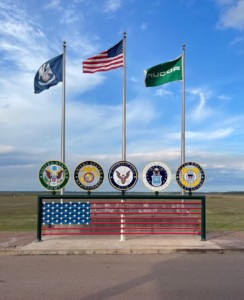 "Systems Team, I wanted to say Thank You to all of you who made our Veterans Tribute structure possible this year. I know countless people and hours went into making this a possibility. With what started out as a just a thought turned into an amazing structure that we can honor our veterans by. Your team was a huge piece of bringing that vision to life. To those of you who are veterans, thank you for your service and thank you to the Systems team for partnering with us on this project."
Check Out Our Past Projects
greyes
2022-11-18T11:20:28-06:00
For this project, we were approached by a steel mill built in the early 90's that did not have any up-to-date drawings of what was currently in their melt shop. Our team went in with our Leica laser scanners to scan their melt shop, then using the point cloud data, we generated a General Arrangement
greyes
2022-08-30T11:42:31-05:00
A customer's ladle preheater had sustained excessive wear, on-the-fly modifications, and collision damage with ladles over the years and was not longer functioning properly. We had to utilize our laser scanning technology to make this system functional again! The existing frame had unrecoverable damage and wear from years of use. We were able to scan
greyes
2022-08-26T11:35:56-05:00
Customer approached Systems asking for assistance on an A-frame support that needed to be rebuilt. We reviewed laser scans that we already had of the area and determined that the support was sufficiently scanned to start designing. The A-frame had structural damage from equipment contact and decay from years of being in service. The 3D
The Systems Group is a diverse group of companies that interact with each other to offer a suite of services to heavy industry. We are a family owned company with over 50 years of taking care of the customer. Our divisions include Plant Services, Fab & Machine, Spray-Cooled, SMAC, and Systems Engineering, the division where the magic of process piping begins its journey.